EDIT MAIN
School Board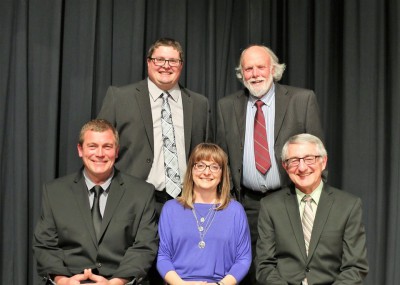 School Board Members Left To Right
BK Row:
Corey Hanson, Treasurer
Doug Kane, Member

FR Row:
Todd Myren, V. President
Sarah Danzinger, Clerk
Dennis Hetrick, President
The next Regular School Board Meeting will be held on Monday, November 15, 2021 at 7:00 p.m. in the District Library.
Board Committee Meetings as follows:
Policy: TBD
Building/Grounds & Transportation: TBD
Community Relations: TBD
Personnel: TBD
The School District of Alma
MISSION: Promoting Life-long Learning and Achievement.
GOALS: Growth, Potential, Responsibility, Achievement
OBJECTIVES
Promoting Growth and Fulfilling Potential
Academic skills will be addressed through a vigorous curriculum in both grade and age-appropriate subject areas. Curricular subject areas will be aligned with the appropriate state standards yet will allow for the individual needs and interests of students and teachers alike.
Physical skills for a healthy life will be promoted through curricular and co-curricular programs and opportunities for all students.
Social skills will be stressed in order to help the student develop a sense of self-respect and respect for others.
Both formal and informal instruction shall be used in helping each student develop to his/her fullest potential.
Teaching and Learning Responsibility
Learning and practicing the expectations that society holds for individual and civic responsibility shall be an ongoing function of the school.
We will strive to instill an appreciation of positive work-habits and the adaptability necessary to succeed in a society where change is constant.
Recognizing Achievement
As we strive to meet our mission, we recognize that children have differing abilities to learn and that learning takes place at different rates.
We believe that educational programs should be designed to accommodate those abilities and potentials at each successive level of development.
Philosophy of Education
The School District of Alma recognizes that, in a just society, each person is worthy of respect, regardless of race, creed, gender, sexual orientation, talents, abilities, and economic status. Students need to develop feelings of self-worth and confidence in order to experience a sense of pride and accomplishment. Therefore, expectations shall be high, yet realistic and reasonable. The values of fairness, generosity, and tolerance shall be commonplace. The social and cultural climate of the school will be based on mutual trust and respect held by both students and staff.
We believe that it is essential that we understand the ways and means of our former generations in order to appreciate and enhance our future. It is important that the school looks at current and future technological advances as tools for learning, understanding, and achievement.
The School District of Alma must serve as a reflection of the needs, values, strengths, and aspirations of the community. The success of its mission is dependent upon the collaborative work of the school, home, and community resources to provide the best educational opportunities for all.