The Alma Schools Students of the Month program to highlight several of our great students is ready to announce the February's students. Mrs. Rieck, Elementary School Counselor, has divided our student body into four groups by age. (B4-Grade 2, Grades 3- 6, Grades 7-9, and Grades 10-12) Each month, four students will be chosen by a random generator to be highlighted as one of our Students of the Month. Students will be highlighted on our Alma Area Facebook page, and the Alma Schools website page. We are excited to introduce the February Students of the Month!
Grades B4-2
Eleanor Demers (Kng)
Barbies and unicorns are Eleanor's favorite things to play with. Her favorite baby doll is her Baby Alive, but she sleeps with her baby named Butterfly. She has two brothers, Grayson and Eli. They get along most of the time, and her favorite thing to do with them along with her parents, Mitchell and Kelly, is to go to the Jump Park. When they go to the Jump Park, she always wants to eat at Qdoba. Besides eating at Qdoba, she was sure to tell me that her grandma makes the best spaghetti and meatballs and also "basagne" (lasagne). Eleanor describes herself as very flexible! She is in dance class, and she is currently practicing her hand stand. She also loves to climb on anything! She loves the monkey bars at school and can hang by her feet. The one thing Eleanor is looking forward to is summer because she loves to go boating and swimming.
Grades 3-6
Zachary Keeler (Gr. 4)
Zachary is a very kind, serious young man. He works hard at everything he does. He knows that education is very important, and he always does his best. His two favorite classes in school are Science and Art. He isn't really into sports right now, but he does like basketball. He knows that he has to have good grades in high school in order to play on the high school team. He also likes soccer, because he can kick really well. He has gone to Florida several times with his family: Adam, Whitley, Henry and Jade. He likes to swim in the ocean and in pools, but isn't so sure that he would like to live there. Along with his three siblings, he has two little dogs at home. Their names are Glitzy and Cocoa. Speaking of Cocoa, Zachary likes pizza, chocolate swirl ice cream, and burgers. He isn't really sure what type of job he wants when he is older, but he wants to make a lot of money like his dad. He assured me that his dad is retiring at 37 years of age, and he followed up with "that's OLD!"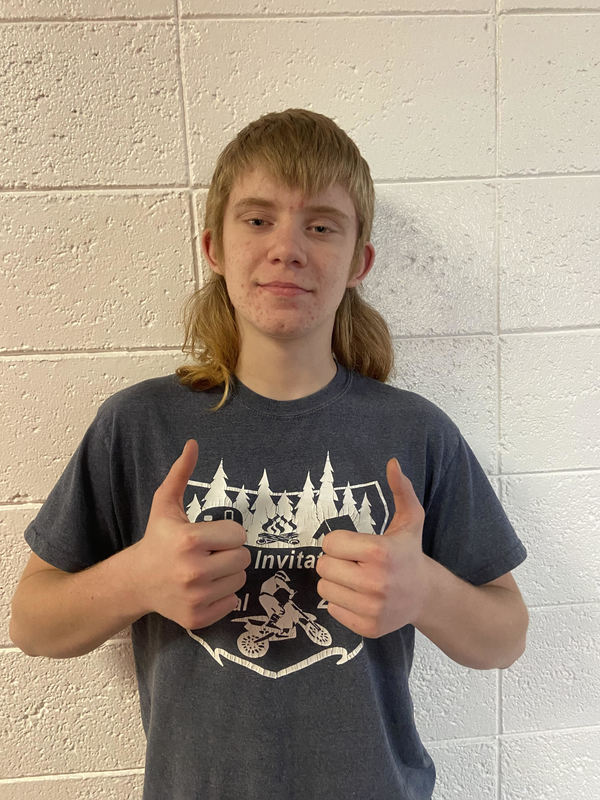 Grades 7-9
Christian Langhorst (Gr. 9)
Christian loves speed. Ever since he was little he has ridden dirt bikes and snowmobiles with his dad and brother, Brian and Camron (aka Karen). The three of them are very involved in the Alma Snowdrifters of Buffalo County. Christian also serves as the Youth Representative of this organization. He has ridden dirt bikes on enduro tracks in WI, MN and IA. He and his mom, Sara, rescued an abandoned cat this fall. Dale is a 'garage' cat and is not allowed in the house. He loves to hang out in the garage with Dale and his dad. Christian is very mechanical. He has rebuilt a snowmobile motor and has done a 'motor swap' on his dad's truck. Christian currently works at River Rats, and in the summer he mows lawns. He is thinking of becoming an Aerial Lineman to outdo his brother who is a Lineman. In school, he plays trombone in the band, and he will also play baseball this spring. Christian didn't have a lot of 'favorites' to share other than his favorite TV character is Bubbles from the Trailer Park Boys. Christian has a pretty easy-going and fun outlook on life, but he definitely will NOT eat green olives or soft, half-melted ice cream.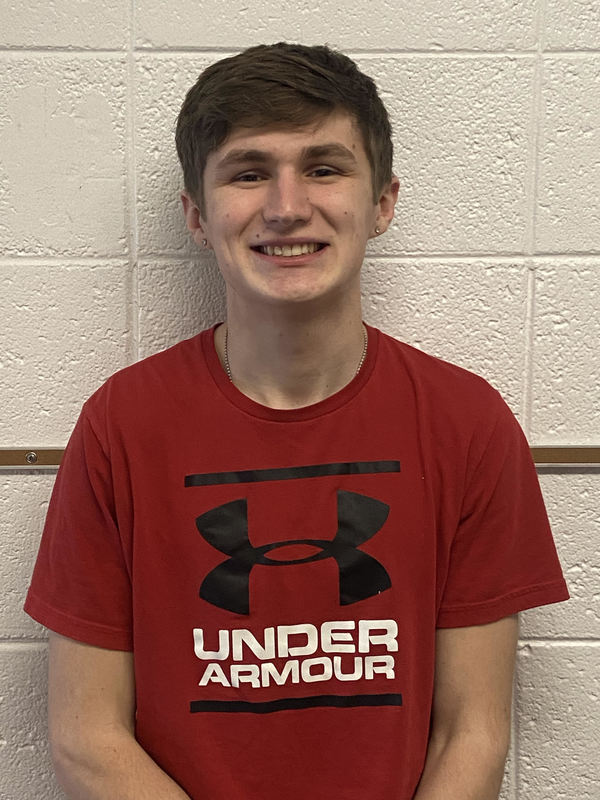 Grades 10-12
Landon Inglett (Gr 12)
Throughout his school years, Landon has excelled in Choir. He has participated in Dairyland Honors Choir and also Dorian Honors Choir. He also enjoys his Strength and Conditioning class in school and would like to continue to lift weights in his future. At home, he likes to watch the Netflix series, The Walking Dead, and he reported that he has watched all 11 seasons about 6 times! Landon comes from a blended family. During the school year, he lives with his dad and step-mom, Jon and Melanie. He also has four step-siblings and a half-brother in Alma. During the summer and holidays, he visits his mom, Reannean, in the state of Washington. There he has a step-dad and a half-brother as well. He isn't really sure where he will live after graduation, but he would like to move to Eau Claire to work for awhile, and then eventually move to Los Angeles, California. Landon currently works at the North End in Cochrane is working to save enough money to buy a vehicle.