The Alma Schools Students of the Month program to highlight several of our great students is ready to announce the April students. Mrs. Rieck, Elementary School Counselor, has divided our student body into four groups by age. (B4-Grade 2, Grades 3- 6, Grades 7-9, and Grades 10-12) Each month, four students will be chosen by a random generator to be highlighted as one of our Students of the Month. Students will be highlighted on our Alma Area Facebook page, and the Alma Schools website page. We are excited to introduce the May Students of the Month!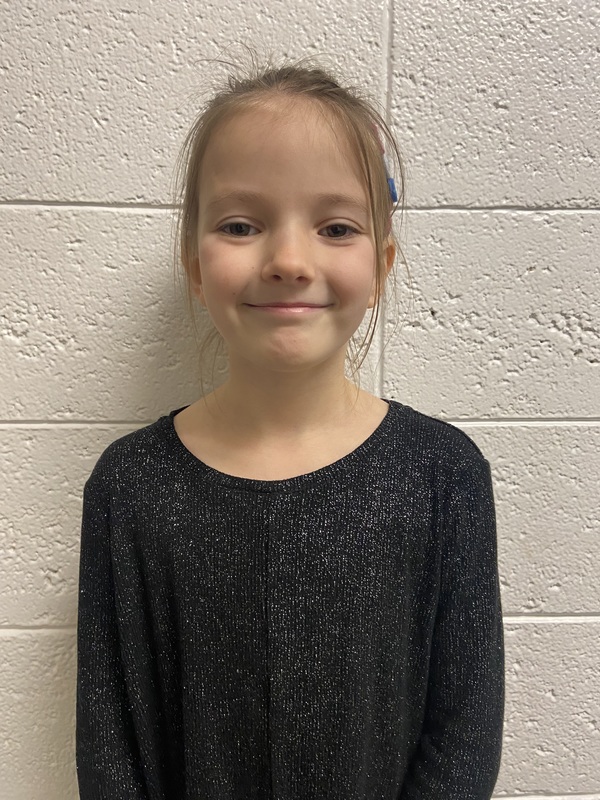 Student of the Month
Grades B4- 2
Salem Lorenz (Kindergarten)
Salem loves playing with her twin sister Avery, drawing, and going outside. She makes sure that she sleeps a lot so that she has lots of energy to run fast at school when she plays ball tag in phy ed. Her special talent is that she can tweet like a bird. She talks to them, and she knows what they are saying and doing. Salem's favorite foods are cake, marshmallows, cupcakes, and steak. The things she loves the most are: her mom and dad, Christine and Thomas, and her four siblings. She also loves new shoes and dresses. (Her mom thinks she messes up her room with clothes but really it is mom!....Shhh!) Salem can't wait for the weather to warm up because she wants to do a lot of swimming this summer.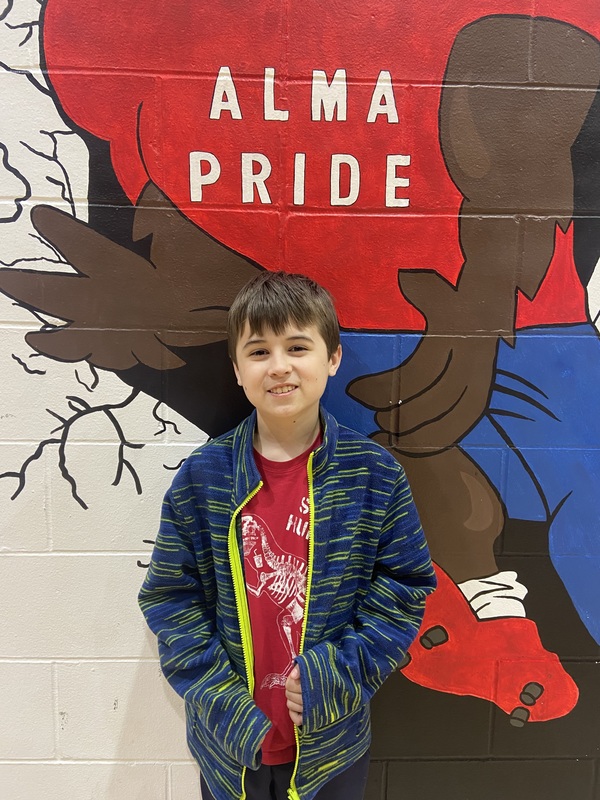 Student of the Month
Grades 3-6
John Bowler (Gr. 3)
John joined our Alma School Family at the end of his Kindergarten year. His family moved here from Tennessee to be closer to family who live in Illinois and Minnesota. John is definitely a thinker. He loves to create and build things which is why he likes video games like Roblox and Minecraft. He is interested in robotics and wishes he could build a robot. He would also like to be an engineer someday, but he knows how much work that would be. John followed this up by saying, "School isn't my favorite thing, but I know how important it is to learn stuff." Outside of school, John also likes to play basketball and pickle ball with his mom and dad, Martin and Sara. He also likes to play video games with his little brother Ray and watch MMA (Mixed Martial Arts) on the UFC channel. Even though it is fun to watch, John probably wouldn't want to be a wrestler because he doesn't like the thought of getting beat up. His favorite holiday is Christmas because he really likes to watch holiday specials with his family, and he also likes to give and receive gifts. He and his family will be busy with Little League and swimming lessons this summer.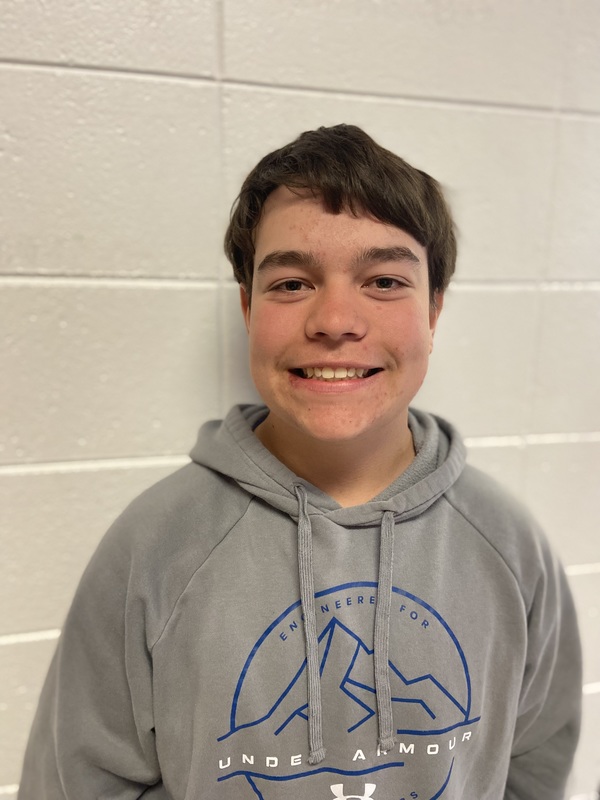 Student of the Month
Grades 7-9
Clayton Merchlewitz (Gr. 8)
Clayton was a fifth grader when he enrolled in Alma Elementary. He likes Alma because it is small, and you get to know everyone. In his old school, there were kids that you knew by face, but never got to know them personally. He also likes that students in Alma get to know their teachers. It makes it easier for kids to ask for help and work with them. Clayton describes himself as a humble, easy going and helpful young man. He said his mom, Heather, would attest to this! He loves to hunt deer and hasn't gotten a trophy buck yet, but he has shot a rather unique buck that he admires. He also likes to fish bass on the Mississippi with his dad, Buckley. He doesn't like to really play sports, but he would consider playing football in high school. He loves to watch the "Vikings" the most. Clayton hopes to find a summer job, so that he can buy lots of his favorite food, steak, but he doesn't plan too much for the future, he likes to just live day to day.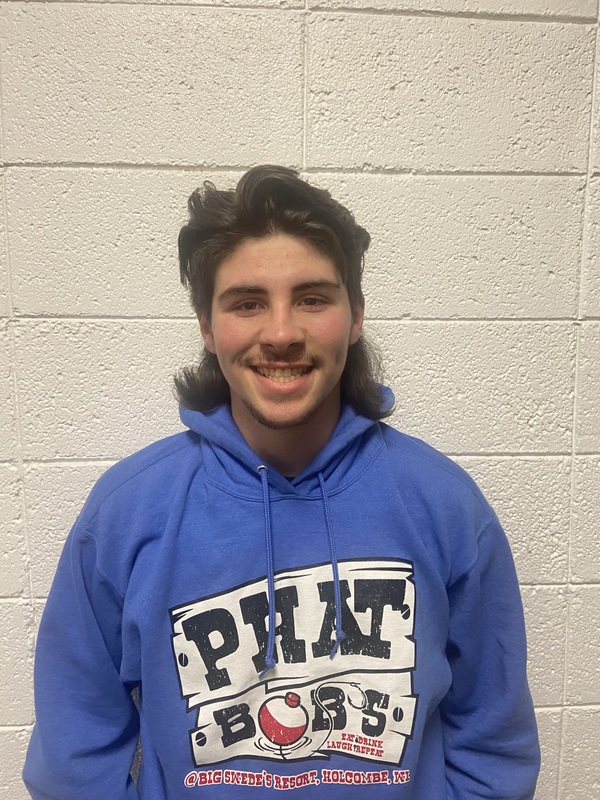 Student of the Month
Grades 10-12
Evan Fuller (Gr. 11)
Evan has a smile that will light up any room, and he is a true country boy. He loves hanging out with friends, working on trucks, listening to New Age Outlaw music, and eating at Texas Roadhouse. Evan is currently employed by three businesses: a construction company, the Nelson Cheese Factory, and Traun Farms. This great work ethic and love of earning money for his truck has inhibited his involvement in sports the last few years; but, he has played baseball two years in high school and wrestled for Wabasha-Kellogg from first grade through his sophomore year. Evan is a great musician as well. He can play guitar, and is also one of the lead drummers for the high school band. If you were able to attend the Big Band Dance, you would have found Evan playing the trap set. Since Evan likes mechanics, he loves Mr. Reed's classes and is planning to enlist as a wheel mechanic in the Army after high school. I think his mom, step-dad, and brother Chase will miss him very much.