The Alma Schools Students of the Month program to highlight several of our great students is ready to announce the February students. Mrs. Rieck, Elementary School Counselor, has divided our student body into four groups by age. (B4-Grade 2, Grades 3- 6, Grades 7-9, and Grades 10-12) Each month, four students will be chosen by a random generator to be highlighted as one of our Students of the Month. Students will be highlighted on our Alma Area Facebook page, and the Alma Schools website page. We are excited to introduce the September Students of the Month!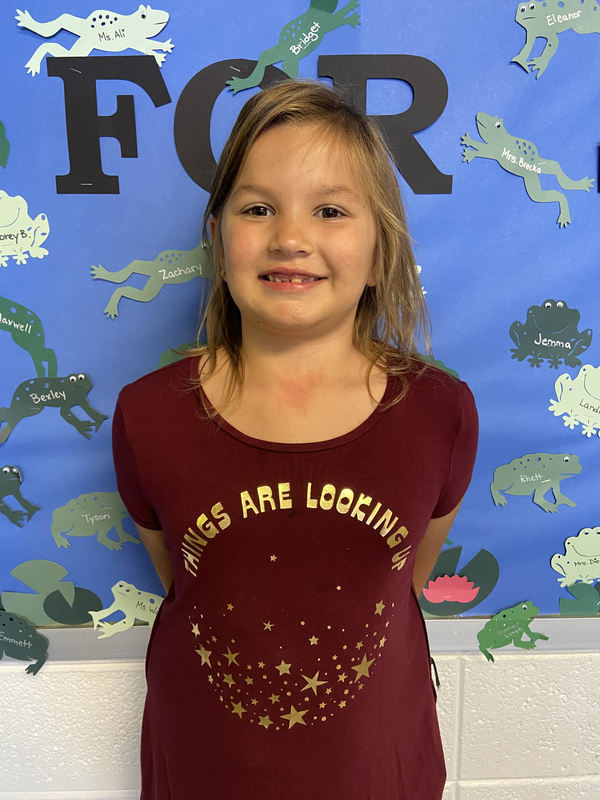 Grades B4-2
Clara Schmit (Gr. 2)
Clara's family includes her dad and mom, Tom and DeeDee, and her little brother Clayton. She likes to stay away from Clayton because he can be annoying when he asks too many questions. On the otherhand, Clara is glad she is not an only child, because Clayton can be very entertaining when they jump on their trampoline! She also has two dogs, Hammer and Flash. Hammer is just a puppy, and he has caused injuries on her hand since he is teething. He has also chewed up slippers, bows, and trucks. Clara also likes to visit her grandpas' and her uncles'. Clara's favorite class at school is Art because she loves to draw and do crafts. She also likes school because she can get away from Clayton, read and go on Epic. (She is grounded from her computer at home!) She also likes to talk with her friends Richie, Ray and Elle at recess. Her favorite foods are noodles and hot dogs. Clara is looking forward to deer hunting with her dad this year. She likes to be outdoors and look at beautiful scenery. She hopes to do a lot of traveling in the future to see beautiful places.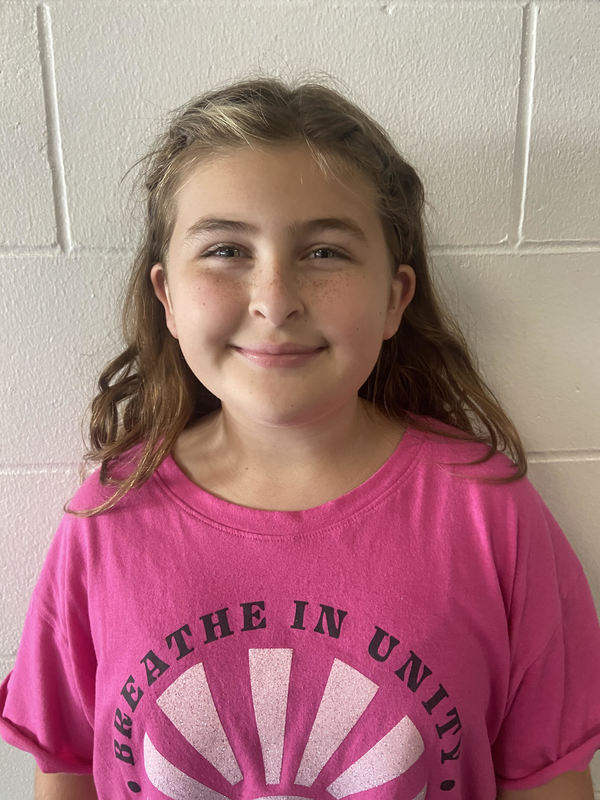 Grades 3-6
Isabella Alvord (Gr. 6)
Isabella's favorite thing to do is to SHOP! She loves to shop at Boot Barn, Scheels and Claire's. She also likes the store Tilly's at the Mall of America. When she goes shopping, she also gets to go out to eat. Applebee's is her favorite restaurant. She usually orders the Oriental Salad. Isabella also participates in gymnastics at the YMCA in Winona. Here she does the floor routine which includes doing handstands, back flips, and the splits. Isabella said that the routines can make you nervous, but once you are done you feel very proud of yourself. Isabella travels with her mom and dad, Christine and Sam. They go to Colorado to see her grandparents, aunts and uncles, and cousins. When they are in Colorado, they ride horses and go to Durango to shop. She would have her own horses if she could, but since they can't have them at her house, she has a dog, Athena, and lots of cats. At school, she loves to read books like the "I Survived" series which she has completed.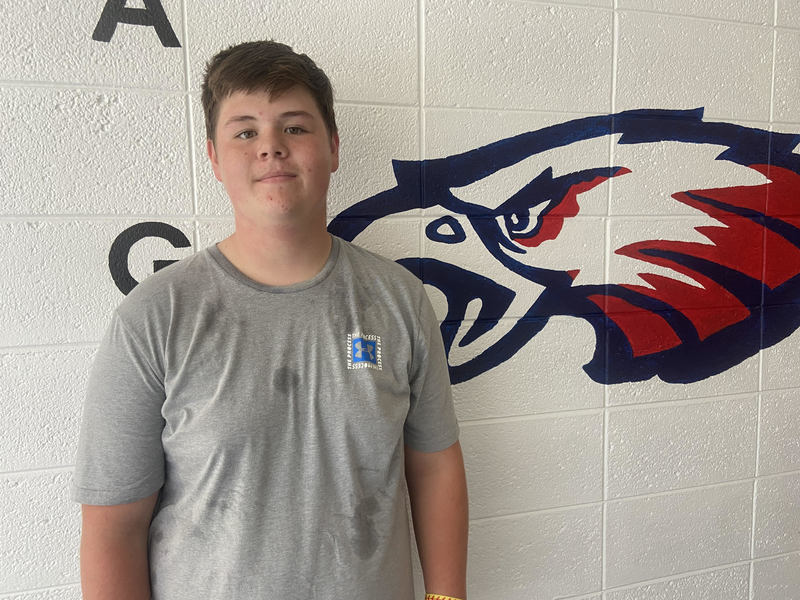 Grades 7-9
Gavin Weaver (Gr. 9)
Gavin is the son of Wes and Tara Weaver. He has one brother, Riley. Gavin does not think that he and his brother are similar. Gavin likes to be outside fishing, hunting and playing sports, and Riley likes to be indoors playing video games. Gavin has hunted deer and would like to try duck hunting. He also fishes for Bass in the backwaters of the Mississippi. He caught one of his biggest fish, a 6lb 18inch Bass, ice-fishing by Dairyland Power. Gavin also likes to bike and play baseball. During baseball, he has played a variety of positions. Gavin is very helpful at school, he runs the scoreboard at many Junior High, C-team, and JV events, and he is always willing to help others when asked. He likes going to school in Alma because everyone knows each other, but he also wishes that some of the sports teams were bigger. He has previously worked at the Garden Pub in Pepin, and he aspires to be a welder someday.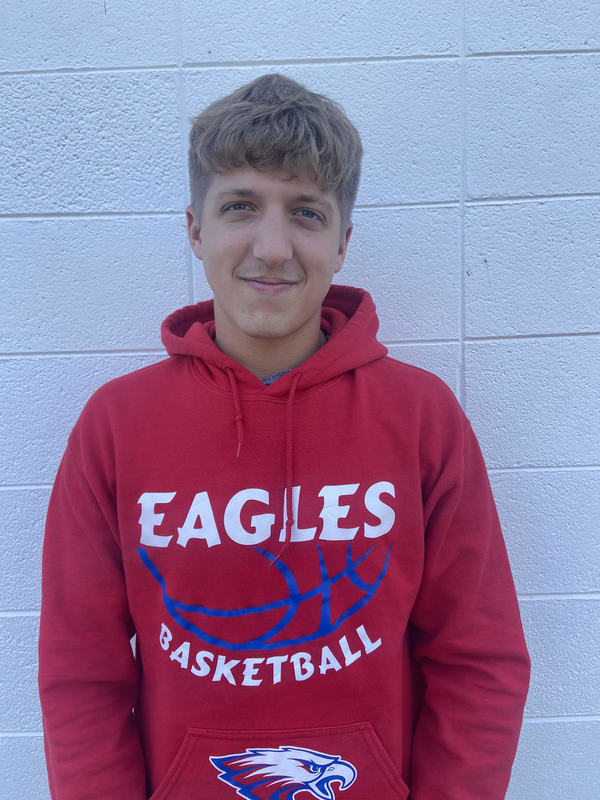 Grades 10-12
Ashton Radatz (Gr. 11)
Ashton is a Junior in High School and is very adventurous. He loves football and basketball, but his favorite sport is Baseball. Ashton, his mom and dad (Ron and Jen), and his brother (Tyler) have gone on several very enjoyable trips including to Canada and Mexico. One of his favorite things to do whether he is in WI or on vacation is fishing. He likes to fish for Bass and Walleye, and he caught a King Jack in Mexico while deep sea fishing. Ashton also hunts for ducks, pheasants, turkey, coyote and deer. Besides being an avid hunter, Ashton likes a variety of sports. Baseball is his favorite sport, but he also plays football and basketball. During the winter months, he loves to snowboard despite getting injured a few times. He usually snowboards at Coffee Mill in Wabasha, but his family has also gone to Mont du Lac in Duluth, MN. Ashton has worked at the Nelson Cheese Factory for several years and is currently working at the Alma Kwik Trip. He enjoys going to a small school, and his favorite class is Chemistry because of the labs. In the future, he would like to travel to Alaska and work at either a coal or nuclear power plant.