The Alma Schools Students of the Month program to highlight several of our great students is ready to announce the October's students. Mrs. Rieck, Elementary School Counselor, has divided our student body into four groups by age. (B4-Grade 2, Grades 3- 6, Grades 7-9, and Grades 10-12) Each month, four students will be chosen by a random generator to be highlighted as one of our Students of the Month. Students will be highlighted on our Alma Area Facebook page, and the Alma Schools website page. We are excited to introduce the November Students of the Month!
Grades B4-2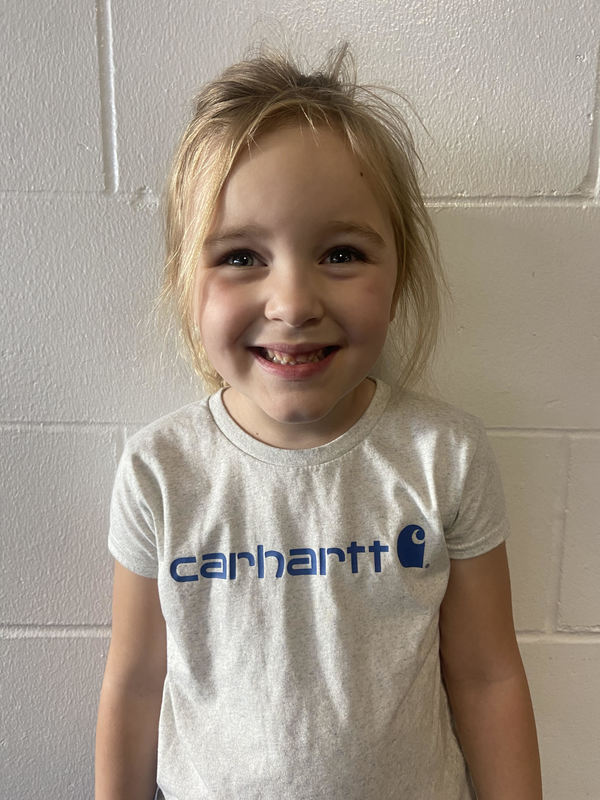 Paisley Glass (B4)
Paisley is a sweet little 5 year old in the B4 classroom. She loves her horses, Brandy and Misty, and she loves to ride with her mom, Chelsea. When they ride horses, Paisley likes to go slow and look at cows. At home, she likes to play games with her dad, Tim, and her little sister, Payton. She said that mom makes the best noodles, and she likes them with tomato sauce. She also likes her pink bike and her dogs. Her dogs' names are Cruise, Ranger, and Moose. Paisley is excited for winter because she loves to build snowmen, and when it is really cold she likes to watch movies. Brave is her favorite movie.
Grades 3-6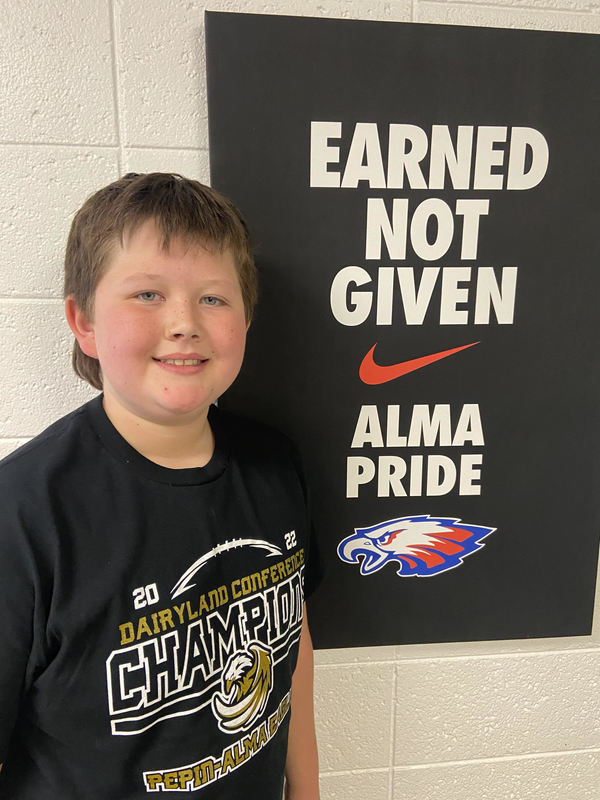 Collin Henthorn (Gr. 5)
Collin lives and breathes sports. He is very interested in all types of sports. He has played 1st base and pitcher in Little League, and he hopes to play baseball, basketball and football in high school. Not only does he like to play sports, but he likes to watch professional sports. His favorite NFL team is the Buffalo Bills, and Josh Allen is his favorite player. He attended a Packer game at Lambeau Field when he was little, and he has traveled to Arizona for the Brewers Spring Training Camp with his mom and dad, Jamie and Bethany, and his little sister, Mallory. Besides sports, Collin also likes to hunt. He hunts for squirrels, rabbits, coyotes and deer. If they had more time, he would also take his yellow lab, Remi, duck and goose hunting. Collin's dream vacation would be to hunt for mountain goats and elk in Montana. Due to his interests, his dream job would be to play in the NFL. His back up plan would be to be an engineer. When asked what his favorite holiday was, he responded "deer hunting" as he has renamed Thanksgiving break "Deer Hunting break".
Grades 7-9

Wil Jumbeck (Gr. 8)
Wil is another young man who thrives on living in Buffalo County because he loves to fish and hunt, and he also loves sports. Wil loves to hunt deer, squirrels, turkeys, ducks, geese, and rabbits. His favorite hunting memory was when he and his dad, Bob, went antelope hunting in Wyoming. They walked a ton, but he was able to shoot a doe at 186 yards. If he could choose where to hunt next, he would like to go to Montana and hunt for elk. He is also looking forward to a possible pheasant hunting trip that may occur soon. Wil also loves to fish. He really doesn't care what species he catches, but he typically fishes for bass or northern. Aside from hunting, Wil likes to snowboard with his mom, Tanya. He loves the thrill and excitement of snowboarding, and when they go to Coffee Mill in Wabasha, his siblings, Clare and Ty, go skiing. Wil's family has also gone on some family trips to Northern Wisconsin and Custer National Park. He likes attending Alma because not only do the kids know each other, but the parents also know each other. Overall, the whole community is very supportive of the kids at Alma. After high school, Wil hopes to attend college to become a DNR Warden or a Biologist.
Grades 10-12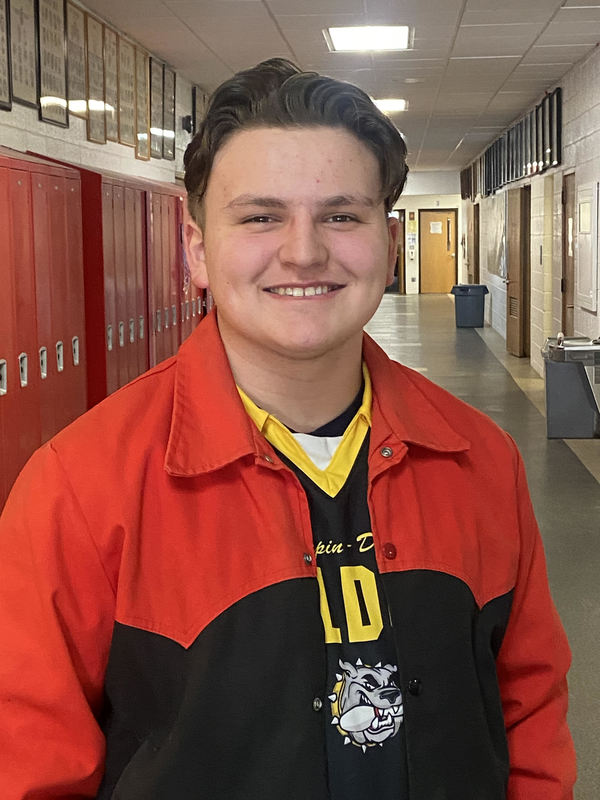 Casey Rodriquez (Gr 11)
Casey and his mom, Kristine, moved to Nelson when Casey was in fourth grade. Casey loves to work with his mom and grandparents at his grandparents business, J & J BBQ. Most days, Casey gets up early to help prepare the ribs and put them in the smoker. He is very proud of the family business that his grandparents started as a food truck in Colorado. Casey is wearing his great-grandfather's jacket in the picture which is embroidered with the name of the restaurant on the back. When Casey is not working, he enjoys playing video games and hanging out with his friends. Casey has learned a lot about martial arts over the years and wishes he could take Brazilian jiu jitsu or kickboxing classes. He has a shih-poo puppy named Jasmine that he got for his birthday from an elderly lady who passed away. One interesting fact about Casey is that he is colorblind. In the future, Casey hopes to attend a Culinary School or enter the Marines.